Ruby LUT III es una potente collección de LUTS para corrección avanzada de fotos y vídeos. Es compatible con decenas de programas de edición de fotos y vídeo.
Cuenta con soporte para Adobe, DaVinci, Avid, Edius, Affinity Photo, ON1 Photo Raw, Filmora y mucho más. También funciona con Video LUT para IOS y 3DLUT Mobile para Android.
RUBY LUT III – LUTs para PSCC, PRCC, AECC, FCX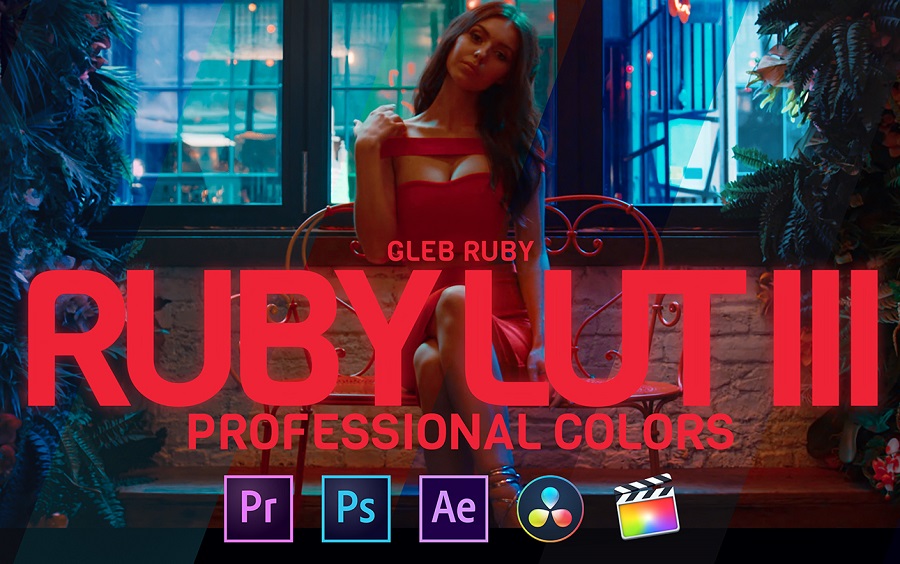 Sin duda, unos LUTs asomborosos que ofrecerán una corrección de colores espectaculares. Lo más interesante de Ruby Lut III, es su alta compatibilidad con decenas de programas.
Programas compatibles con Ruby Lut III:
MAC Y WINDOWS
• Adobe Photoshop (CS6 and +)
• Adobe Premiere Pro (CS6 and +)
• Adobe After Effects (CS6 and +)
• Adobe SpeedGrade
• Adobe Lightroom (read note below)
• Avid Media Composer (7 and +)
• The Foundry NUKE
• DaVinci Resolve
• Assimilate Scratch
• Edius (8 and +)
• CyberLink ColorDirector (4 and +)
• Final Cut Pro X
• Sony Vegas (12 and +)
• Wondershare Filmora
• PowerDirector 16
• Capture One 10 (read note below)
• Affinity Photo
• ON1 Photo RAW
• HitFilm 4
• Video LUT (iOS)
• LumaFusion (iOS)
• 3DLUT mobile (iOS/Android)
• LumaFX – iPhone/iPad
---
INSTRUCCIONES:
Puedes consultar en Google como abrir LUTs con cada programa, te dejamos las instrucciones de los principales y más utilizados.
• After Effects: EFECTOS ➡UTILIDAD ➡ Aplicar Color LUT
• Premiere Pro: EFECTOS ➡ Lumetri Color
• Photoshop: CAPA ➡ NUEVO AJUSTE DE CAPA ➡ Color Lookup
• Final Cut Pro X: PLUGINS ➡ Lut Utility
• NUKE: COLOR ➡ 3D LUT ➡ GenerateLUT
---
DESCARGA SIN PUBLICIDAD:
Subido por Zentinels. Revisado por ArtistaPirata.com
RUBY LUTS 3 – MAC Y WINDOWS – MEDIAFIRE
RUBY LUTS 3 – MAC Y WINDOWS – MEGA.NZ
RUBY LUTS 3 – MAC Y WINDOWS – DRIVE